Customer-facing order status display screens
CollectionPoint
Find out more and download the product brochure below.
Industry-leading software

Queue-bust effectively and efficiently with CollectionPoint displays that integrate with your EPoS to keep customers informed of their order status; reducing complaints and improving customer experience.
Customise CollectionPoint to fit with your existing branding
CollectionPoint display screens show order status so customers can be kept informed on their order progress. Ideal for takeaways, quick service restaurants, cafes, attractions, warehouses and waiting rooms, the intelligent solution integrates seamlessly with the wider EPoS ecosystem, automating the whole process.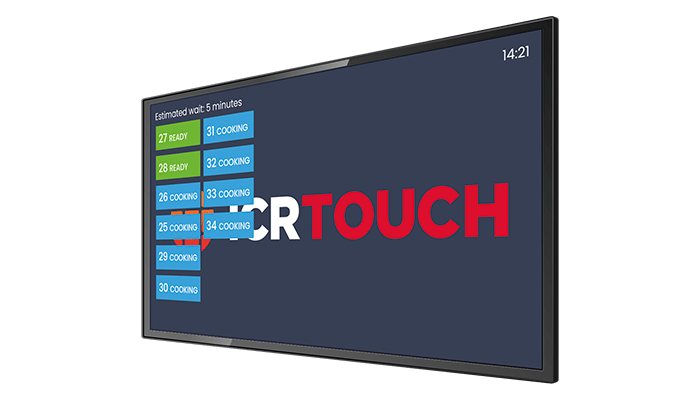 Take a closer look at the benefits
Improve customer experience with order status progress displays that keep customers well informed.
Reduce congestion by keeping queue lines away from the counter at busy times and allowing your customers to browse as they wait for their order to be prepared.
Reduce complaints by automatically providing customers with their expected wait times.
Increase sales by utilising the fully branded screens to advertise promotions, offers and upsells.
Use screen space to advertise to your customers. Let customers know all about your services as they anticipate their collection.
Collection notifications are called from the CollectionPoint remote or when the kitchen finish a ticket on TouchKitchen.
When an order is placed on TouchPoint, the order gets sent straight to CollectionPoint.
When an order is ready to collect, an animation for the corresponding ticket will pop up on screen, along with an audio announcement.