The paperless solution to at-table order taking
PocketTouch
Find out more and download the product brochure below.
Industry-leading software

Raise the bar on customer experience with PocketTouch, the intuitive hand-held EPoS software that gives you a paperless solution to taking food and drink orders.
Whether you're utilising PocketTouch on an iOS, Windows, Android, or even a PAX device, it'll help you turnover tables quicker, increase order values and reduce mistakes. Take orders at the table or in the queue line – whichever works best for your business.
Efficient service keeping customers and staff happy
PocketTouch is designed by industry experts to allow waiting staff to take orders seamlessly from the table or queue line, without the need for any manual pen and paper system. Orders are delivered straight from their hand-held device to the kitchen and bar, giving the most efficient service to the customer.
Order updates made on PocketTouch are automatically sent to the till and kitchen management systems such as TouchKitchen, streamlining the whole process and allowing you to turnover tables quicker than ever.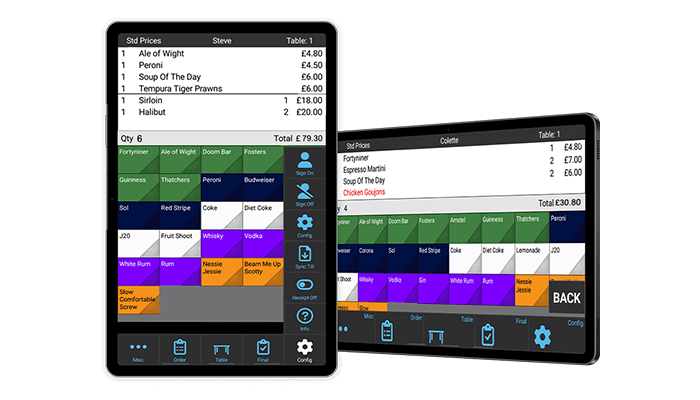 Take a closer look at the benefits
Increased customer satisfaction at the table through notifications to staff when items are off the menu.
Fewer mistakes, orders are clear and don't have illegible handwriting plus orders don't get lost.
Faster table turnaround through seamless integration enables more covers per table.
Increased spend per head on drinks orders straight to the bar, the waiting staff can remain on the floor and offer customers more.
Queue-busting potential of having service staff take orders at busy times.
Table service process is simple and efficient making life easier for staff and customers.
Increases revenue by up to 25%.
Faster table turnaround through seamless integration enables more covers per table.
Staff can easily identify and open the correct table. Supports multiple floor levels, with optional by seat ordering.
Sends the order straight to the kitchen or bar, saving time and staff spend more time with the customers.
Prevents ordering out-of-stock items.